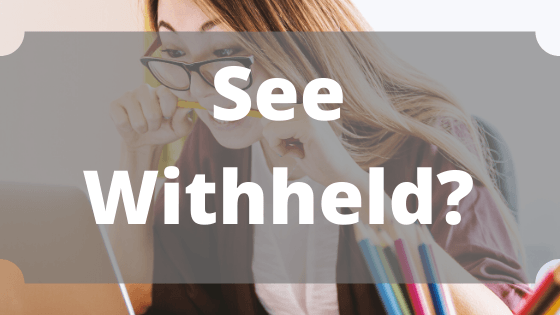 Here you are "patiently" waiting for your NPTE results after a week and now you see this "WITHHELD" on your screen! OH MY GOD!!! What are the FSBPT people doing to me?! Why, do I have to WAIT some more? That's so CRUEL! Why ME?!
If you are saying this to yourself; you're definitely not alone. However, let me clear up some of your thoughts before you drive yourself even crazier about your score being withheld.

Did I Just Fail the NPTE?
No! Before you even think this about your NPTE result score, you're jumping the gun here. Having a withheld score doesn't mean you automatically FAILED. While the real reason won't be revealed to you (that's just mean of them), if this is your first attempt, it's most likely just a RANDOM check. 
What Are They Checking For?
There are a few things that the FSBPT could be randomly checking for when an NPTE score is withheld. Since there are experimental questions, they are checking to see the validity of the overall exam. There are multiple NPTE exams given out with varying degrees of difficulty so being able to randomly check makes sure the exams are consistent. Keep in mind that all exam scores are subjected to validity before the score is released.

As for answering the actual exam, they want to be sure to check answers that may seem as randomly selected or show an inconsistent pattern of learning. It doesn't mean you didn't study, they just want to make sure that when limited knowledge is demonstrated that they ask you how you studied. They would have a concern especially if there happens to be a very low score before providing a license to someone that hasn't shown enough competence throughout the different areas to safely practice.

Another reason that a check is made is to make sure your registration data when applying for the exam matches up with what the Prometric Center data has been provided. One of the possible reasons may be due to the changing of the last name (such as marriage) just prior to the exam and having the ID credentials match up. Unfortunately, in the past there have been cases of cheating; so, they want to essentially make sure that you as the candidate took the exam.
Irregularities at the Prometric Center
It's stressful enough just taking the exam; however, there may have been things documented and sent to the FSBPT about an exam. This could be from technical issues such as the computer shutting down in the middle of the exam, not working properly such as the screen not advancing or having to restart an exam at another computer.

Other irregularities not related to your exam could be having to leave the center due to power outages, fire alarms or something else. While this may be annoying that your score is withheld, the board may be just double-checking on the situation.

Some reports to the FSBPT may be due to what the proctor saw while you were taking the exam. This could include taking an unexpected break in the middle of the section, accessing materials from the locker during the break (phone or notes), excessive movements or looking around. I'm not saying that you attempted to cheat on the exam; however, anything that the proctor felt was abnormal would be reported that could lead to the NPTE score withheld.
But I've Taken the NPTE Before!
Ok, so you've taken the NPTE before and wondering why my exam score is being withheld? Well, it could actually mean that your score on this attempt increased a significant amount. That's great news because the goal would be to pass the exam! So, this would actually mean that your studying was effective to address the lacking areas from before. If you know you put in the time to prepare and took steps to improve your exam score, there's no reason to really worry about this withheld score.
I've Already Been WithHeld Before!
If you have had your NPTE score withheld from a previous attempt, it may feel like the boards are picking on you. They are not really picking on you as each attempt is looked at individually. So, if you had another increase or decrease in your score, they may be looking at patterns of how you performed on the exam.
Now, What Should I Do?
When getting your NPTE score withheld, you'll more than likely get an email to fill out a survey. What you want to do is answer the survey as soon as you get it and answer truthfully. There are not that many questions and they may ask you how you prepared and what resources you used. Just put down what you did.
When Will I Get My Results?
Depending on how many withheld scores there were for this attempt and how soon you reply to that survey, you can expect anywhere from a few days to up to 10 days (maybe 2 weeks for heavier exams such as July).
In the MeanTime…
While it sucks having to wait longer for your score results, keep a positive mindset and most likely the result will be favorable. If the withheld actually means you don't pass this time, keep your head up and reach out for help. Remember, your emotions from the PT exam, the score doesn't define who you are or what you can be.