The live webinars were always helpful. The greatest source of help was understanding questions break down that helped in not over-analyzing the questions.
The webinars were a great way to practice and become confident with the testing strategy. The questions asked help facilitate a clinical way of thinking.
The live webinars were always helpful. The greatest source of help was understanding questions break down that helped in not over-analyzing the questions.
The videos discussing various topics helped cause I could hear random topics to further my insight and knowledge.
Go Beyond Practice, Be Able To Understand NPTE Questions
We've all heard that we should be practicing on answering NPTE questions before the exam; however, we don't hear about going beyond that practice to actually understand the question and rationales. So, here's your opportunity to learn more about the questions and answers by learning how to approach them as well as being able to break them down.
Get Comfortable For the Actual Day
What better way to prepare for the NPTE by practicing with questions written to what's similar to the exam. These original NPTE practice exam questions are designed and written to the latest FSBPT standard. That means you as a candidate are better prepared for the actual day by giving yourself an edge to PASS.
It's all about simulating the day under the pressure of time. See how well you can answer the questions against the timer and then see how well you fare against others.
Practice, Practice, Practice NPTE Questions
We all know that practice makes perfect, so here's your chance to get more practice in with guidance!
Practice the following:
Answering against time
Answering different topics
Answering from the different systems and content sections
Answering different question lengths
Choosing different answer types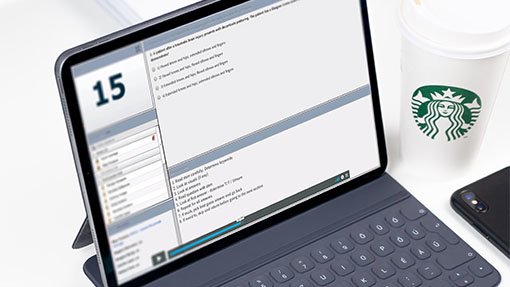 We've Got Your NPTE Questions Covered
With these 200+ questions and 75 NPTE question topics, we covered all the blueprint systems and content sections. It's like practicing for an NPTE practice exam without really taking one and the best part is being able to hear the discussion on being able to analyze the question and answers for better understanding. These are just a small sample of what is provided in our NPTE prep course.
Here have a taste of what one of the NPTE questions and answers as well as the discussion. Our discussion lasts about 10-15 minutes per question which means you can understand from the content aspect and test-taking point of view.
NPTE Question Walkthroughs
I'm enjoying them a lot! I like that we thoroughly go through each question, even if I get an answer right, it's important for me to confirm exactly why I'm right. Practice questions are always beneficial in my opinion!
Extremely helpful First-hand practice using the exam process and getting full explanations for each question and answer.
I loved how each question was broken down and how each week, there were different topics to go over!
Realistic questions; able to have Q&A, able to discuss ways to answer it wrong and how to answer questions correctly.
Frequently Asked Questions
How long are the videos?
These NPTE question walkthrough videos range from 28 to 44 minutes. The average videos are in the 35 minutes range. The total number of hours is over 41 hours.
Are there other things not in the video?
Yes, there are other discussions not provided as it pertains specifically to Therapy Exam Prep's NPTE prep courses and further discussions from the instructor.
Are there other NPTE question topics?
Yes, those in the course get over 190 videos at full length around that range from 48 to 65 minutes.
Do you have NPTE practice exams?
Yes, we currently have 3 original full-length NPTE practice exams that simulate the day.