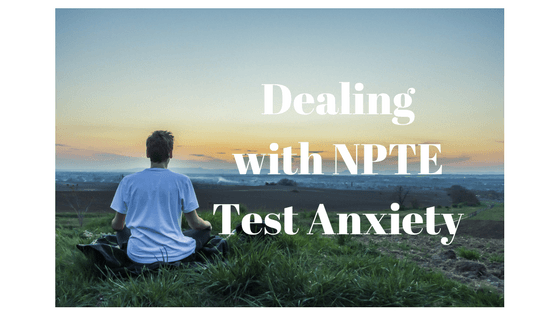 When you think about preparing for the National Physical Therapy Exam (NPTE), do you feel that it's a really hard exam? If you listened or heard from previous candidates over the months or years, they may have horror stories (or post traumatic test anxiety) from this exam. If you ask any practicing clinician, who have taken this exam several years ago, they may find the anxiety or negative feelings are still evoked to this day.
Self-Inflicted NPTE Anxiety
A major reason for anxiety towards the NPTE is actually self-inflicted. While this physical therapy exam is not exciting, it really should take precedence over job hunting, interviewing and vacation or fun planning. I see candidates both at conferences and on social media wanting to plan several months ahead of graduation with life-changing events but not giving any thought towards preparing for this important exam at all. Each of these circumstances creates stress and they tend to stack on top of each other. Adding preparing for your board exam only adds to the stress and pressure especially when taking the NPTE before graduation.

When procrastinating towards preparing for the exam leads to "Examzilla" like type behaviors. The stressed or anxious feeling can be characterized by the following: being irritable or cranky to be around with. Feeling overwhelmed with external distractions where shutting down and blocking out previously enjoyed activities. As well as having a negative mindset towards the exam and life makes it harder for anyone to reason or hang out with you. Now, don't be that type of person!

Reducing Anxiety by Changing Your View of the NPTE

One of easiest ways to reduce anxiety towards the NPTE is changing your mindset view of the exam. Whatever you think the exam will be is what you'll get. Your mind has a powerful way to manifests what you believe in. So, if you feel scared, anxious or fear the exam, you'll have a harder time preparing for it. Here are a few ways to change your mindset towards the exam.

Make Studying Fun

Studying for the NPTE doesn't have to be boring or uninteresting. Think about how you can challenge yourself into learning the relevant material for your future patients. See how well you can make clinical thinking decisions rather than just passively reading the study guides. Take the time to invest in yourself now over a longer period of time with the knowledge you'll be using in your career. There's a lot of material to cover for the NPTE and it can be really easy to feel overwhelmed. The following are some themes to make studying fun and help with reducing stress or anxiety.

View harder topics more like a complicated patient and tackle the problem one part at a time
Learn to put pieces of the puzzle together by being a detective and finding clues to make connections and improve your content knowledge areas
Go outside and become a people watcher and make it a game of what could be the cause of the deviation
Utilizing Practice Exams as a Tool
Tackle the pre-exam nervousness head on with NPTE practice exams. In order to beat this exam, you'll want to know what kind of mountain you are dealing with. Understanding how the questions are derived helps to become familiar with the format of the exam. By knowing the anatomy of the NPTE question you can learn how to be prepared to pass this exam from the very beginning. Before any studying is done, obtain your baseline with a practice exam to help you know where to focus on rather than aimlessly different topics.

View each practice exam as the real NPTE and do your best (if you're tired or negative, your scores will go down; If not in the right mindset, just wait)
Simulate the actual NPTE day — this includes sticking with a hard time limit (pausing and returning back at a later time gives a false sense of mental and physical preparedness)
Practice utilizing the strikethrough, highlight features, and paper / laminated pages — the more comfortable you are prior to the exam, the easier it is for you to focus on the actual question
Practice taking breaks both scheduled and unscheduled (give yourself at least 5 minutes extra to simulate checking back in)
Therapy Exam Prep's NPTE practice exam simulation provides a full-length 250 question exam with a hard time limit to help with keeping your mindset ready for the real exam
Reducing The Actual Exam Day Anxiety
Once the actual day arrives to take the NPTE, you'll want to be ready to face something similar to "speed dating" except you'll be rapidly answering mini evaluations. It's game time now and no time to look back. It's ok to feel nervous coming in; however, now is the time to control how you want this NPTE experience to be like.

Gain confidence by dressing for success – impress your patient questions with a comfortable but nice attire. Don't wear sweats or too casual clothes as you want to take the exam seriously. Keep a positive mindset about being able to treat any kind of patient presented to you and stand proud with your head up high.
Keep focus and stay calm with a phrase to go to such as "I Can Beat the NPTE!" Don't forget to use the laminated pages as brain dumps.
After each question, breathe! Sometimes we forget and hold our breath when nervous so practice diaphragmatic breathing.
Stick with your gut instincts and trust yourself with your answers. Avoid changing your answers and don't overanalyze the information provided. Keep everything at face value — you'll miss less when you do this.
Additional Test Anxiety Strategies Posts

Reducing Test Anxiety By Utilizing Brain Dumps For The NPTE
Know what to do with the laminated sheets or whiteboards to help you on the exam.
Reducing NPTE Test Anxiety By Controlling The Tempo
Learn how to take control of the time from the very beginning of the exam.
NPTE Mindset – Meal Planning to Reduce Test Anxiety
Stick with known foods to avoid an unsettled stomach during the exam.
NPTE Mindset – Sleep Plan of Action to Reducing Test Anxiety
Avoid losing sleep the night before the NPTE with strategies to help calm your mind down.
Lastly, to help reduce your test anxiety, practice imagery or visualization techniques. Practice daily in the morning and at night how you want your exam to be like. Anyone successful including athletes, perform some sort of visual imagery of the outcome they want. Practice how or what kinds of questions you want and how you'll be able to tackle them on the actual day. Start today and be proactive on how you can reduce your test anxiety before the real day. Being consistent and persistent will help making your goal of passing the NPTE a reality.