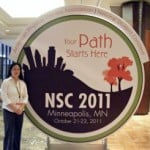 This year's APTA National Student Conclave was held in Minneapolis, Minnesota at the Hyatt Regency on October 21-22nd. Therapy Exam Prep (TEP) was happy to support the conference as a gold sponsor and exhibitor. This was a great way for TEP to introduce the online NPTE webinar program to the U.S. PT schools and students.Situated in booth 305 of the exhibit hall, TEP greeted PT, PTA students, and faculty members. We received a favorable response by all that stopped by our booth to talk to us. There was a lot of interest in learning how they could prepare for the NPTE online and the type of support we offer when studying for the exam.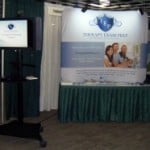 Over the two days, hundreds of PT and PTA students stopped by to talk with TEP. We handed out brochures and bookmarks to those that had an interest in TEP's program. Our slideshow was viewable on the TV monitor and provided a  tour of TEP's online NPTE webinar program. All students that stopped by from various years were given a chance to enter TEP's drawings throughout both days of the conference. There were over 30 prizes awarded to different PT and PTA students. The prizes were $25 and $50 gift certificate to Restaurant.com, TEP's Exam Process Webinar and TEP's 3 month online NPTE webinar program.
Here are some of the winners: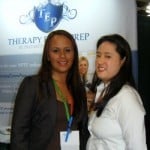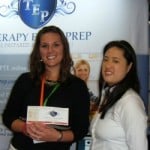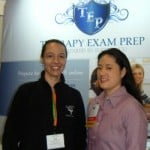 On Sunday, October 22nd, I had the chance to talk FSBPT's Kathy Fleischaker, PT, Treasurer and on the board for licensing in Minnesota, as well as Mark Lane, PT, VP of Professional Standards and Assessment. They mentioned that a new NPTE outline will be available in 2013 but no significant changes are expected from the current NPTE outline.
Overall we were very excited for a successful TEP exhibit and we're now planning for the APTA's CSM in February.